New Member
‎October 29, 2019
8:10 PM
How can I enter my relevé 1 while I have income from Ontario and a part form Quebec
New Member
‎October 29, 2019
8:10 PM
Go to Profile > Personal Tax Profile for <your name> then click the edit button beside 20XX income.
In the profile page, choose the following Checkboxes:
I was Employed
T4 Employment income and
I worked in Quebec and received a Relevé 1 slip
Now go to the Income section and enter your T4. There is a Box E with the following note under it:
Note: Enter only the amount from Box E of your Relevé 1. The amounts from the other boxes on your Relevé 1 will be covered already from the T4 slip received from the same employer.
If you are not a resident of Quebec, you don't need to fill in your Relevé. It is only required if you are a resident of Quebec and are filing a Quebec provincial return as well.
Returning Member
Does this same thing apply to entering a Releve 2?
I am in a strange situation. Moved from Quebec to Ontario, therefore Releve 2 does not pop up when I search for slips to enter.
Further, I am already claiming a pension payment & tax deducted on a T4A. However, I also have a releve 2 from Quebec where they deducted tax. How do i enter both without a double entry of the income? Thanks in advance!
Intuit Alumni
Returning Member
Hello,
Thanks so much for your reply - this is quite helpful. Just to confirm - is this the same process for the releve 2/T4A? I have a releve 2 that i am trying to enter but the steps mentioned only cover Releve 1....do I enter as is even though it is a releve 2? T4A entry does not have the same entry as shown in the reply.
Thanks so much!
Intuit Alumni
to break it down
For RL-1:
when you choose T4 and RL-1, you will be able to fill both slips from the same company together.
for the T4 from employment:
- Choose QC Box 10 --> this will open the letter Boxes
- Fill T4 and RL-1 in the same slip
- Box 22 should be entered from the T4
- Box E should be entered from the RL-1
- Don't forget your Box 56 which is the same as Box I
For your T4A from QC while you are not a QC resident:
- You will need to fill a T4A slip with all boxes as you have received it including Box 22 as is.
- For RL-2 you need to create another T4 instead of RL-2 because TurboTax online doesn't offer RL-2 for none QC residence.
- In this new T4 that will replace your RL-2, put QC for the province in your Box 10.
- This will open new Boxes that have letters instead of numbers.
- Use only Box E to fill the taxes paid in the RL-2, and don't fill any other Boxes.
I hope this clarifies it
Returning Member
Good Afternoon,
This does clarify - thank you.
However, I do get this error:
Do I have to submit this via mail or is it possible to bypass this?
Thanks so much for your help!
Intuit Alumni

New Member
Hi, I have followed the steps exactly as said, skipped the error notice as said, and i can't file my return. tip?
I have a disability income stated in a T4A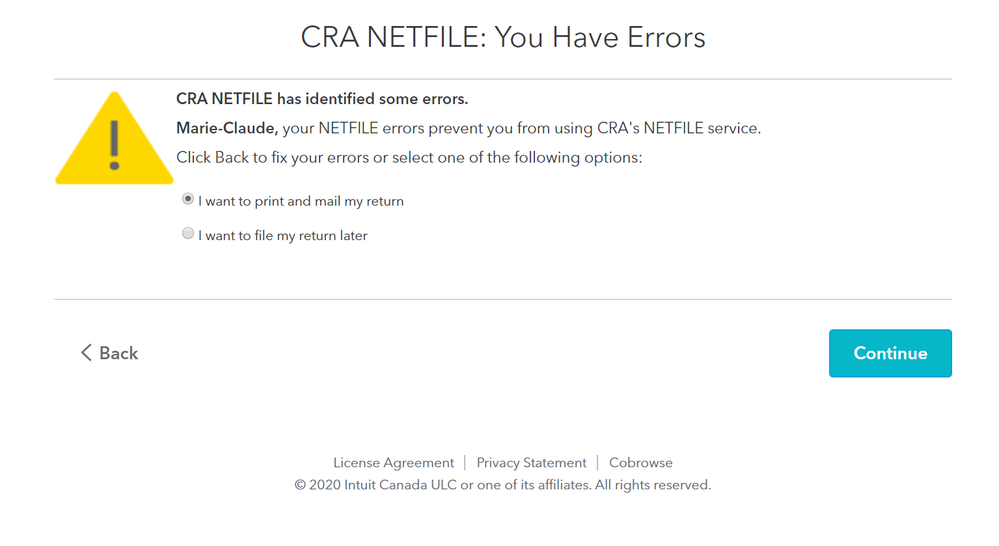 Intuit Alumni
In my duplicated scenario, I have added an income from the RDSP:
In your T4A:
In your T4 that replaces the RL-2:
I can file with no errors
If you still have an issue, contact support because you have limited times to try to NEtfile before the system locks you:
https://support.turbotax.intuit.ca/contact/
I hope this was helpful