If you have inserted the TurboTax CD and the installer doesn't start automatically, AutoPlay may be disabled, or you might have missed the pop-up window/tile asking you what should be done with the disc in the drive. You might only see it on screen for a second or two before it closes. If you see the tile, click it and follow the on-screen directions.

Click Run Setup.exe on the following screen: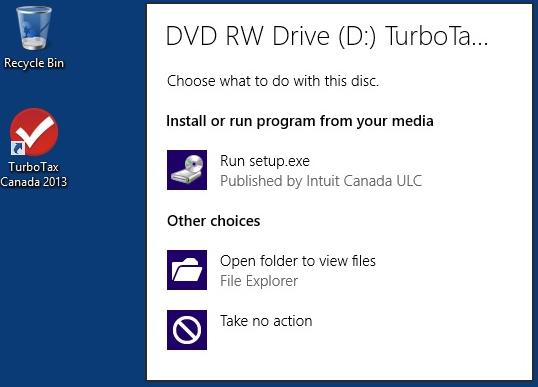 Manually Install TurboTax on a Windows 8.1 machine:
You may need to install your software from the CD without using AutoRun. If that is the case, follow the steps below:
Using Windows Explorer, navigate to the CD-ROM or DVD drive where the installation CD is located
Look for the file setup.exe. This is the setup and install file to launch the installation CD browser
Note: The setup program may not display the extension "exe". To identify which is the correct file, look for "application" in the file type column when making your selection
Double click on the setup program to start the program installation
The installation CD browser should now open and you should be able to proceed with your installation as instructed on the CD sleeve
In Windows 8.1, CDs inserted into the disc drive do not always Autoplay. Depending on the settings of your particular system, the TurboTax CD may or may not begin the Autoplay process automatically.
Related information
Does the CD/download edition of TurboTax for the current tax year work with Windows Vista or Windows XP?
What are the minimum system requirements for the CD or download edition of TurboTax?