How do I find my NETFILE confirmation number?
When you've successfully filed your return using the CRA's NETFILE service, TurboTax will display a confirmation number to indicate that your return was filed and received by CRA. You can see this confirmation number in TurboTax any time after you file.
Important: Your TurboTax payment transaction number (e.g. TXXXXXXX) is NOT your NETFILE confirmation number.
To see your confirmation number in the online edition of TurboTax:
If you're not already signed in to TurboTax, sign in to your online TurboTax account and select the View button beside your return to open it.
From the navigation menu on the left, select File, then select CRA Online Mail. Note: The menu is up top in TurboTax for tax year 2017 and 2016.
On the Do you want to register for CRA's online mail? step, select Continue.
On the Filing your returns step, locate your NETFILE confirmation number.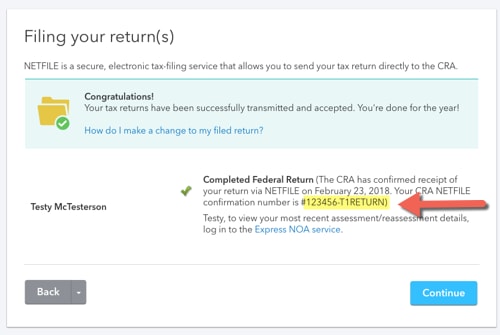 The return(s) you've filed will be listed with:
a green checkmark
your NETFILE confirmation number
the date the return(s) was filed
If you don't see a NETFILE confirmation number (i.e. the Filing your return(s) step doesn't look like the example above), you haven't filed your return through NETFILE. In this case, see our FAQ for submitting your tax return to CRA using NETFILE:
If you're in Forms view, select EasyStep at the top of your screen.
Once in EasyStep, on the left-side menu, select File and then select Electronic Filing (NETFILE).
The return(s) you've filed will be listed with a green checkmark, the confirmation number, and the date they were filed. If you haven't filed yet,  your return (and that of your spouse, if applicable) will be listed, but without a checkmark, date, or confirmation number.
Related information
INF31266
p_cg_tto_us_lc_na_question:L6n4pXX79_CA_en_CA
Why do you want to report this?