If you purchased TurboTax CD/download edition directly from us (from TurboTax.ca or through TurboTax Advantage), your installation key appears on the electronic receipt that is emailed to you.
It's a good idea to check your junk mail folder to make sure your TurboTax receipt didn't end up there by mistake.
If you did not receive your receipt by email within 24 hours of purchase, contact TurboTax Support to get a copy of your receipt.
If you purchased a TurboTax CD from a retail store, your installation key is on the sleeve that the CD came in.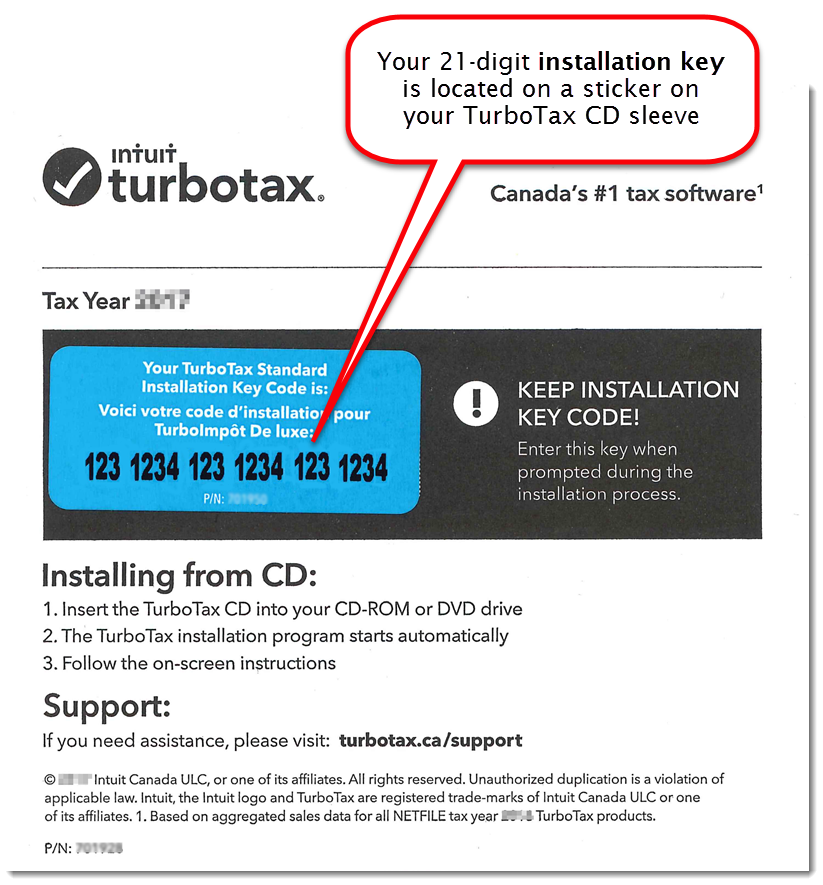 If you did not receive one on your CD sleeve, contact TurboTax Support.
If your box says 'TurboTax Standard Online Edition' on it
You don't need an installation key. You have purchased the online edition of TurboTax and there's nothing to download or install.
You'll find your prepayment code and instructions on how to use it on the card that came inside the box.
If you did not receive a card, contact TurboTax Support.
Note: Installation key for TurboTax CD/Download edition and prepayment code for TurboTax online edition are not interchangeable.
Tip: Be sure to keep your installation key in a safe place. You'll need it if you choose to install TurboTax on another computer.
Related Information