Level 1
posted
last updated

‎April 21, 2021

8:13 PM
Mark as New

Bookmark

Subscribe

Email to a Friend
How do i claim an employment expense deduction (option-1 flat-rate method)
Hi,
Based on this article i don't need any document to claim the flat rate option (worked at home during a consecutive 4-week period) and getting this error saying:
Looks like you don't qualify for employment expense deductions this year.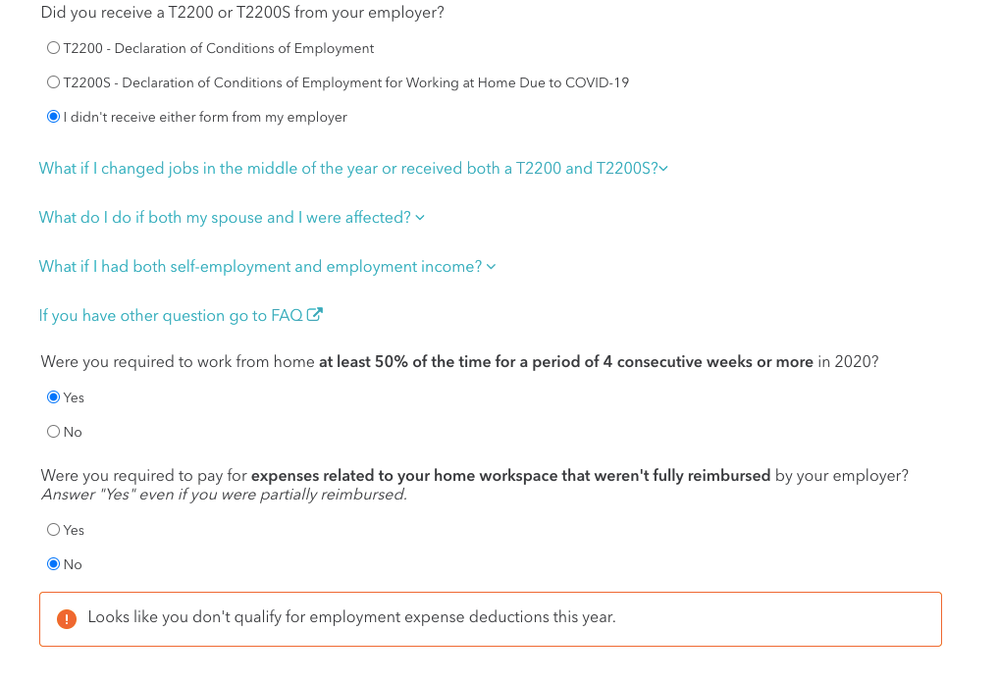 Can Anyone help me with this, please? thanks


2 Replies
Level 4
Mark as New

Bookmark

Subscribe

Email to a Friend
How do i claim an employment expense deduction (option-1 flat-rate method)
If you are claiming the employment expense deductions, you would have to answer YES to the question "Were you required to pay for expenses related to your home workspace that weren't fully reimbursed by your employer?" In order to qualify for this tax deduction. Then click on Continue, where you will be given an option to choose between the flat or detailed methods of employment expense.
Note: For the flat rate method to be activated in TurboTax Online, you enter your T4 and scroll down to the bottom where you will be asked: Will you claim employment expenses for working at home due to COVID-19 for income on this T4? NEW! Please say YES to this question.
For more information please follow this link:
Thank you for using TurboTax.
Level 1
Mark as New

Bookmark

Subscribe

Email to a Friend
How do i claim an employment expense deduction (option-1 flat-rate method)
Thanks for the reply. flat-rate option applied 🙂